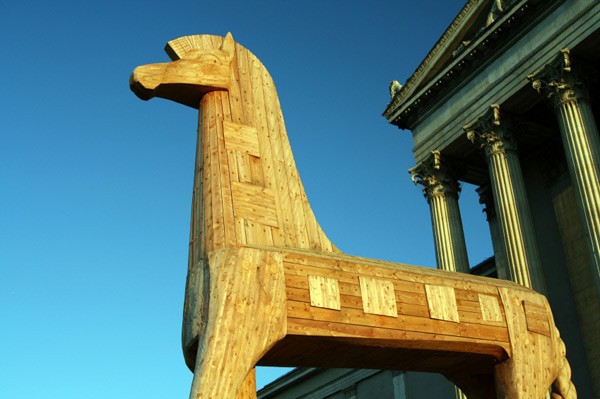 Lomita Ct. Stanford, CA —  This past monday morning, the Kappa Alpha fraternity was formally presented with a colossal —  perfectly innocuous —  hollow wooden horse by Stanford's new OCS executive administrator, Otis Ayus. In the context of Stanford Administration's less-than-congenial relationship with Greek Life, some members in attendance of the ceremony were understandably suspicious of the administration's intentions, citing a particular mythological tale. However, these voices of apprehension were outmatched by overwhelming gratitude for the clearly genuine, entirely harmless tribute.
This is only one in a series of moves carried out by the university's new administrative-direction for campus life, an approach that have nicknamed "the hackneyed fable strategy." Just last week, executive director of building standards, B. B. Wolf, announced a mandate for the renovation of a particular pair of anthropomorphic-swine-only row houses. These two houses, being constructed out of straw and sticks, are technically in violation of California building code 2677 which requires that "no domicile be constructed such that one might huff, puff, and blow said domicile in."
The residents of these two houses have responded with a stalwart refusal, citing legal protection derived from the "hair of [their] chinny, chin, chins."
Tags: entirely harmless tribute hackneyed fable strategy highbrow allusions less-than-congenial relationship with Greek life wow look at that horse!